ELECTRIC
DEPARTMENT CONTACTS
* Power Outages - 24 Hours
Phone: (269) 659-7255
Chris McArthur
Electric Department Superintendent
Phone: (269) 659-7298
Electric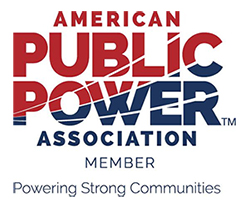 The Electric Department has served the Sturgis area since its inception in 1896. Today, the department serves over 7,200 customers within the City of Sturgis and other parts of St. Joseph County. The majority of the City's electric service is purchased power, supplemented by the City's hydroelectric dam and in emergency situations, City-operated diesel generators.
Below you will find information on setting up electric service, electric service shut offs, as well as activities and programs of the Electric Department. For more information on rates, terms and conditions, and customer service, please visit the Utilities page.
Electric Service
Those wishing to turn on an existing electric service should contact the customer service department at (269) 659-7254 or visit Sturgis City Hall. Individuals interested in installing a new service, including security lights, must complete the application form below and return it to the customer service department at Sturgis City Hall.
If you are experiencing an electric emergency or power outage, please contact 269.659.7255 24 hours a day.
General Electric Department Shutoff Rules
In an effort to standardize shutoff and winter protection rules for all municipal electric companies in Michigan, the Michigan Municipal Electric Association (MMEA) created draft rules for all its members. In November of 2009 the Sturgis City Commission adopted the rules for the Sturgis Electric Department. These rules include standards for shutoff notification, shutoff procedures, and protections against shutoff for certain groups and during certain conditions. For more information, please refer to the flyer or full policy text below.
Distributed Energy Resources (DER) Program – Solar Panels, Wind Turbines, etc.
Renewable energy systems such as solar or wind power are referred to as distributed energy resources (DERs). The City of Sturgis has a DER program which addresses cases where customers wish to connect a DER to the City's electric system. If you are interested in installing a DER system such as solar panels or wind power, please use the link to learn more about the City's DER Program and the permitting process for installation. LEARN MORE
Renewable Energy and Energy Efficiency
Energy Efficiency and Optimization
The City's Electric Department has developed and implemented an energy optimization plan to improve energy efficiency and reduce future costs of providing service.
To implement this plan, the Electric Department is participating in the EnergySmart Program. The EnergySmart Program is a portfolio of energy efficiency programs designed to increase comfort, save cash and conserve
energy for City of Sturgis residents. Included on the EnergySmart page for the City of Sturgis are current incentives, application forms, and other information.
Renewable Energy and Voluntary Green Pricing Program
The City of Sturgis Electric Department traces its history with renewable energy back to 1911 with the establishment of the historic Sturgis Hydroelectric Dam, located on the St. Joseph River two miles north of Centerville Michigan and still in operation today.
The City of Sturgis offers customers a way to support production of renewable energy resources through the Voluntary Green Pricing Renewable Energy Program. Customers participating in this program have the opportunity to offset their electric usage with renewable resources. You can sign up at one of the links below.
Summary information on the City's Energy Efficiency and Renewable energy programs is available here:
Community Commitment
The Electric Department is a valuable asset for the City of Sturgis. The utility is locally owned and controlled. Policies and rates are set by the Sturgis City Commission.  As a not-for-profit entity, electric rates cover operating costs and capital improvements. The rates do not have to earn a return for investors and shareholders.
The workforce is made up of individuals who live in the community. We want a system that meets the needs and expectations of our customers and neighbors and we always strive to provide the best possible service to make this a reality.